Special purchase 10 Yard Bandini tie dyed Skirts from India! 100% cotton. Reasonable price and well made! Price: $49
Closeout Savings! Factory dyed cotton and velvet cholis have to go to make way for my wonderful new pallette of hand dyed cholis. Same comfort, support, and mobility of four way stretch. Sizes and colors are limited. Check the drop down menu to see what is available. regular price $39-$42 closeout price! 29-$32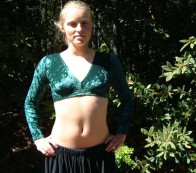 I've moved my overstock and one- of a kind items to the Flying Skirts Etsy Shop, click here to view what is on hand today!
Show Stopping!! Samples, overstock, and hand dyed cholis that did not turn out as expected! Tunics and Kurtas too! Save 15- 30% on Mirrored, Drop Shoulder, Sweetheart and more! Stock is always changing and most are one of a kind, so check back often and don't delay if its what you want! Priced by individual item.
Go to the Flying Skirts Etsy Shop to see what is available today!
Top of Page