The Flying Skirts line is known for high quality construction, dedicated customer service, gorgeous colors, authentic tribal embellishments, and of course...

Home Page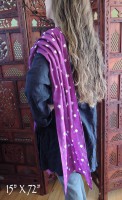 New! Jaipur Scarves to match the Jaipur Bloomers and Skirts
made from village hand crafted bandhani tie dye $31, $49
Polka Dot Bloomers $63
Sheer Lace Cholis ! long or short sleeve
Ruffled Circle Skirt for extreme overhead skirt work! $127-$187

Time limited Sale!
Velvet Choli Closeout colors! while they last! Long and short sleeve $32
Overstock! Check it often! New items added every week!
in stock and ready to ship! Cholis and Tunics from $19, Belts from $36,
Skirts as low as $42! Coin Bras as low as $89! Bloomers as low as $46!
Delivery Times: The Short Answer- In Stock domestic orders arrive at your door step in about 4 business days. Hand Crafted orders arrive in about 10 business days. For The Long Answer Click Here!
If time is an issue add a fast as humanly possible rush sewing fee ( $20 per coin bra, $10 for other garments).
Shipping: Domestic orders are shipped USPS Mail average 3-5 day delivery, or USPS Express 2 day guaranteed delivery. International orders are shipped USPS economy mail 1-3 week average delivery no tracking or USPS Global Express 3-7 day delivery with tracking (recommended). International orders are subject to possible import taxes applied by your customs.
Payment: I use Paypal to process both Foreign and Domestic payments. You do not have to have a paypal account to pay, you can use any major credit card, an echeck from your bank, or your Paypal account if you have one. You can also pay by check or money order if you order by mail.
Flying Skirts Gift Certificates make a great gift for your favorite dancer!: